Join us as we walk 12,000 steps a day in September!
 REGISTER AND SET UP YOUR FUNDRAISER HERE 
Are you ready to get walking to help fund future vitally important missions in your area? Here at Midlands Air Ambulance Charity we are hosting Walk4Life and are challenging you to walk 12,000 steps a day to support an average of 12 patients we are called out to daily.
Our specialist clinicians rapidly bring, advanced hospital-level equipment and lifesaving medicines directly to those in need when they need it most, but to enable us to give patients the best possible care, we need your help.
Each of our 12 daily missions is funded by the generosity of local people and businesses, so will you step forward and help make our next mission possible this September? 
We hope that our online fundraising challenge will not only raise money for the charity but also bring people together to achieve something worthwhile.
Help us to help those who really need it. 
We have set up a Facebook fundraiser with all the information you'll need to sign up and get involved. 
Lets get moving!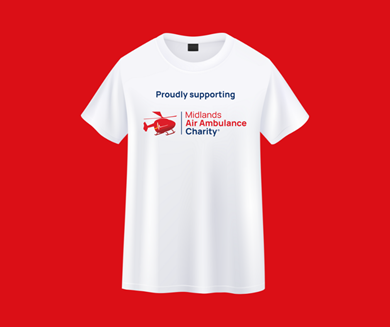 One more thing! Midlands Air Ambulance Charity t-shirts will be gifted to any participants who achieve £40 or more in sponsorship donations!