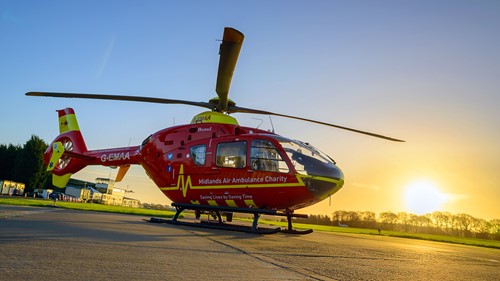 Leaving a gift in a Will could mean the difference between life and death for a future patient. Our charity operates at the forefront of helicopter emergency medical services, and leaving a gift will ensure that our helicopters will continue flying the skies for years to come.
No matter how large or small your gift, it will make a difference. Whether that is medical training, aircrew kit and uniform or a lifesaving drug, we are grateful for every penny.
Read our patient stories to find out more about how important our vital pre-hospital emergency service to families across the Midlands.
Our Gift in Will brochure tells you everything you need to know about making a Will with practical advice to make the process as simple as possible.
If you would like to download or receive a copy of our brochure to find out more, please complete the form below.
We know and respect that your Will is a private matter, but by letting us know, that you've included us, you can help us better plan for the future and we'd love the chance to say thank you. Any information you share with us will remain confidential and is not legally binding.
If you are the Executor of a Will with a gift left to Midlands Air Ambulance charity, please get in touch with us if you have any questions, we are here to help or see our guides below:
Useful information
By updating or making a Will and remembering Midlands Air Ambulance Charity you can help us save lives in your area. Plus, if you're over 55, take advantage of our Free Will Writing Scheme.