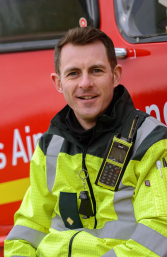 Jim Hancox joined the then Hereford & Worcester Ambulance Service in 2002 qualifying as a paramedic in 2005. He has worked for MAAC for fifteen years and was one of the first groups of aircrew to train as a Critical Care Paramedic. Jim took on the role of Aircrew Team Leader at MAAC's Strensham Base in 2014 and was promoted to Assistant Air Operations Manager in 2019.
"I can't imagine a job I'd rather be doing" he says. "I am privileged to work with such fantastic people and love being able to offer specialist care to the patients we treat."
Outside of work Jim is a keen sportsman enjoying running, cycling and skiing and is a Reservist with the Royal Air Force.
Jim lives with his wife Bernice and son Jack who he describes as his biggest achievement!