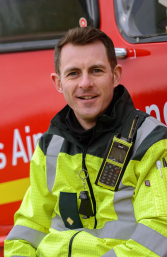 Jim has worked for Midlands Air Ambulance Charity for many years and is very proud to be a part of the team. "I can't imagine a job I'd rather be doing" he says.
"I am privileged to work with such fantastic people and love being able to offer specialist care to the patients we treat."
He graduated from the University of Warwick earlier this year with an MSc in Advanced Critical Care Practice and is an Honorary Research Associate with the University of Birmingham.
Outside of work Jim is a keen sportsman enjoying running, cycling and skiing and has ambitions to one day take on an Ironman triathlon.