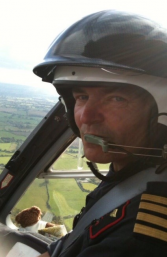 Mark is the pilot for Helimed 06 at our Strensham airbase.
Prior to this, Mark had an extensive career in the Royal Air Force, flying a range of aircraft including Chinook and Puma as well as 12 years flying Search and Rescue Sea King Helicopters.
He has received several awards and commendations for hazardous and challenging rescues, having flown over 600 missions and airlifting to safety over 750 injured or endangered individuals.
Mark said: "I thoroughly enjoy the challenges of flying Helimed 06 and being able to deliver such a skilled and professional team of Paramedics and Doctors to emergency situations wherever they may be occurring."