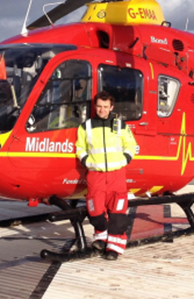 Pete has worked for West Midlands Ambulance Service for over ten years, starting in Jan 2005 as a trainee Technician.
Pete says, "It's been my ambition to join the Midlands Air Ambulance since I started with the Ambulance Service and I feel very privileged to be given the chance to work with such a brilliant team.
It's an amazing job!"
Pete is married with two children. Pete is a keen biker and has competed in events across the Midlands and Wales.