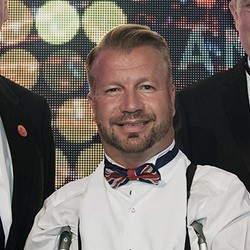 Paralympian gold dressage medallist Sir Lee Pearson CBE, says he is indebted to the work of the air ambulance. Sir Lee was airlifted by MAAC following a serious fall from a horse near his home in rural Staffordshire.
Due to the very remote and rural location of where Lee was injured in the Staffordshire Moorlands, it was deemed inaccessible for a land ambulance to reach him. The Midlands Air Ambulance was dispatched and on scene in a matter of minutes.
Sir Lee explains: "Midlands Air Ambulance Charity does an amazing job for the general public saving lives, they receive no funding from the Government and rely on donations from the public. The riding and equestrian community in particular greatly values their work."
Sir Lee's support of MAAC was commended at the charity's Recognition Awards and Charity Ball in 2017, with a special recognition award.