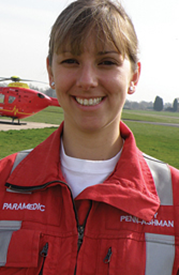 Kerry Penn-Ashman started training as an ambulance cadet back in 1994.
"I absolutely love the job," she says.
"It's the best thing I've ever done and it's so good to know you can make a difference."
As well as the great work for the public, she feels the camaraderie of her colleagues makes her days so enjoyable.
"There are great people here with so much experience. Working with these people is a real eye-opener," she adds.
When not taking to the skies Bromsgrove based Kerry is a busy mum to Elliott and Georgia and she still finds time for running as well!