Due to popularity Midlands Air Ambulance Charity's annual Tatenhill airbase open day is returning on Sunday 14th July.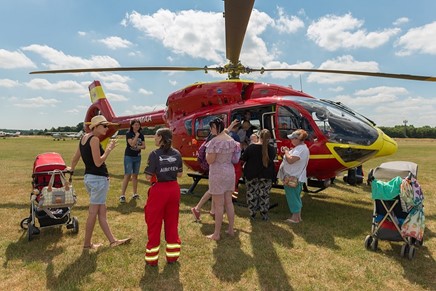 The event, which last year was held for the first time at the airbase in Staffordshire, attracted over 4,000 visitors and raised £12,000 for the lifesaving charity, making it a huge success.
This year the free event is set to return with more opportunities to explore the helicopters with the aircrew, observing demonstrations of lifesaving treatment, getting behind the scenes of the service and find out more about the charity.
Families will be kept entertained throughout the day with the helipod, simulator experience, fairground rides, merchandise stalls, refreshments, and tombola.
Representatives from other emergency services including fire, ambulance, police and blood bikes will also be in attendance demonstrate their contribution to keeping communities safe in Staffordshire.
Emma Gray, fundraising and marketing director for Midlands Air Ambulance Charity, said: "Last year was a fantastic first open day for our Tatenhill airbase, and we're really looking forward to the event again this year. We love inviting people behind the scenes to find out what the aircrew does on a day to day basis, and raising some much needed funds to keep our lifesaving service operational.
"The event is free for everyone, and is a wonderful day out for all the family. We hope to see you there supporting the charity, and hopefully we can beat last year's fundraising efforts!"