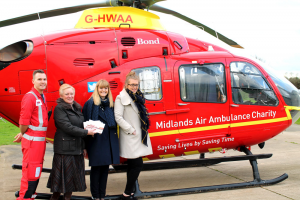 The number of people using Midlands Air Ambulance Charity's Free Will Writing Service has increased by 88 per cent this year, generating enough donations to fund 1,437 lifesaving missions. 
The legacies amount to just over £3.5million; funding almost four in every ten air ambulance missions each year.
Hereford and Worcester saw the greatest number of Wills made (35 per cent of the total amount), while Shropshire boasted 32 per cent, Staffordshire 21 per cent, the West Midlands seven per cent and Gloucestershire five per cent.
Louise Davies, Midlands Air Ambulance Charity's legacies administrator, said: "Donors who leave a gift in their Will can take great comfort in knowing that their actions contribute to Midlands Air Ambulance Charity's work. Four in ten of our air ambulance missions are funded through bequests, so a gift in a Will is actually a lifesaving legacy.
"While this is a great success and one we are extremely grateful to our donors for, there is still more to do to encourage a small minority of those using our Free Will Writing Service who chose not to donate to the charity."
Zoe Smith from the Wills and Probate department of Kidwells, said: "We are very pleased to be in our second year supporting the Midlands Air Ambulance and intend to continue our close relationship with the charity. Getting out to the local community with our legal clinics have highlighted the Will Writing Service which has proved very popular."
Lynda Bragg-Walker, a partner at Hallmark Hulme in Worcester, added, "We find preparing Wills for clients under the scheme so rewarding. We often hear how Midlands Air Ambulance Charity has affected the lives of our clients and their families, which is why people are leaving legacies and making donations to this extremely worthwhile cause."
The following solicitors are participating in Midlands Air Ambulance Charity's Free Will Writing Service, which is available to those aged 55 and over: Graham Withers, Hallmark Hulme, Kidwells, Perry Carver, RJS Solicitors, Rutherfords, T.A. Matthews, Thursfields, Wall James Chappell and Willans.
Midlands Air Ambulance Charity pays towards the legal fees for the Wills to be drawn up. The charity receives no Government or National Lottery funding and so relies on fundraising to raise the £7million needed every year to keep its three aircraft operational. 
For more details about the Free Will Writing Service, call Midlands Air Ambulance Charity on 0800 8 40 20 40 or visit our dedicated page.