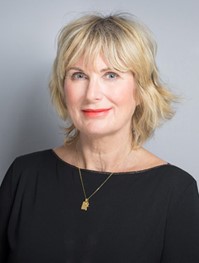 Hanna Sebright, Chief Executive for Midlands Air Ambulance Charity
Hanna graduated from the University of Kent in 1984 after which she joined British Airways where she was fortunate to spend much of the next decade travelling worldwide.
In 1995 she took on the role of Business Development Director at New Hall Hospital, Salisbury before transferring to the Berkshire Independent Hospital, both of which being in the Capio Group. This was the beginning of a long association in healthcare. 
In 2000 she left to take a new role as a Senior Health Consultant at the Atomic Energy Authority (AEA Technology) working on a number of major government healthcare programmes. She left in 2003 to join the Real Creative Group as a Director where she launched a digital-led healthcare communications programme in hospitals across the UK.
Real Creative Group was subsequently bought out by ScreenFX when Hanna was appointed Managing Director of a new operating division; HealthFX.
In 2006, she led a management buy-out and founded Electronic Health Media (EHM), a screen-messaging system in real-time, showcased in NHS hospital and GP surgery waiting areas. EHM was later bought by Lord Sugar when Hanna became Managing Director of Amscreen Healthcare.
Hanna joined Midlands Air Ambulance Charity in 2009 leading the charity through a period of significant change and development. During this time she has held roles of Vice Chair and Chair of the Association of Air Ambulances, the national representative body of UK Air Ambulance Charities and is currently a Trustee on the Board of Air Ambulances UK (AAUK).
Hanna says: "We're tremendously lucky to be supported by the people of the Midlands, year in, year out. Without their donations, volunteering support and fundraising efforts, we simply wouldn't be able to operate our lifesaving service.
"Patient care is at the forefront of everything we do, which is why all of our aircrew are trained to specialist trauma paramedic status. This ensures they are equipped and experienced enough to deal with the most traumatic incidents.
"On behalf of our former patients, and everyone at Midlands Air Ambulance Charity, thank you so much for your ongoing support."