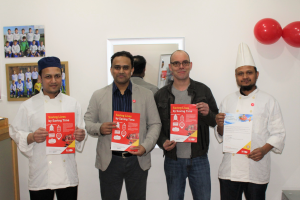 Kidderminster takeaway owner Oli Runu has raised lifesaving funds for Midlands Air Ambulance Charity, after crediting the service with saving his life. 
Oli held a fundraising evening in March at his takeaway Marlpool Diner. Oli donated the profits from every order placed and raised a fantastic £400. He was airlifted by the charity in June 2015 after becoming unwell at his home in Kidderminster.
Thirty-eight-year-old Oli had just returned from picking his children up from school and started to experience tightness in his chest area and a burning sensation.
Oli explains: "I thought it was just acidity. It gradually started to worsen so my wife insisted on calling the ambulance, but I held her back hoping it would go away. However as time went on, my condition deteriorated. I was vomiting and heavily sweating so without wasting another minute my wife called 999."
The paramedics arrived at Oli's home and quickly diagnosed a heart attack. Due to the life-threatening severity of his condition, the Midlands Air Ambulance from Strensham in Worcestershire was called.
Oli continues: "The paramedics from the ambulance service asked me how I was with flying; it didn't really sink it what was happening to me. I was a fit 38-year-old man, non-smoker and had no underlying medical conditions. When the air ambulance landed I realised the seriousness of my condition."
The Midlands Air Ambulance paramedics administered crucial medical assistance to Oli before airlifting him to Worcester Royal Hospital, in less than 15 minutes.
Oli says: "The Midlands Air Ambulance crew were really friendly guys; they were talking and comforting me through our journey to Worcester Royal Hospital. On arrival I was diagnosed with a blockage in one of the main arteries, the cause is still unknown. Doctors said that a delay of another 20 minutes could have done major damage to my heart, or been fatal. 
"I'm certain that Midlands Air Ambulance Charity saved my life, by saving time, which is why I wanted to help fund a future air ambulance mission."