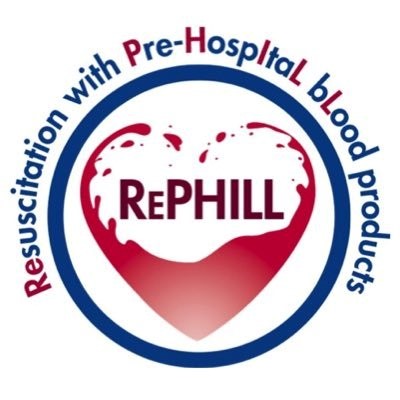 RePHILL is a multi-centre randomised control trial that compares the use of blood products (packed red cells and freeze-dried plasma) at the incident scene, as opposed to the hospital environment.
The use of blood in the pre-hospital arena is a subject of intense debate nationally. While there are strong arguments both for and against it, the current evidence base in this area of pre-hospital practice is inconclusive.
MAAC is helping to lead the largest collaborative research project in the UK's HEMS history. With £1.8million funding from the Efficacy and Mechanism Evaluation (the funding arm of the National Institute for Health Research (NIHR)), the study is being directed from the NIHR Surgical Reconstruction and Microbiology Research Centre (SRMRC), which specialises in trauma research.
This ground-breaking study will provide high-quality evidence to either support or reject the use of  blood products in the pre-hospital environment, as well as evaluate both the economic and logistical impact of using pre-hospital blood products.
MAAC successfully piloted the trial, which commenced in December 2016 for a six-month period, in partnership with WMAS. The study is now being rolled out nationally with other air ambulance charities and will run until December 2019, recruiting 500 patients nationally.
The RePHILL trial uses a pair of temperature controlled boxes; one red, one yellow. The intervention boxes are not opened unless a patient is recruited to the study, a process which must only be instigated once eligibility to the trial protocol has been confirmed.
The red box contains either two units of packed red blood cells (this is O negative blood, the universal group which can be given to anyone) or two 250ml bags of saline. The yellow box contains either two units of lyophilised (freeze-dried) plasma or two 250ml bags of saline. When clinicians open the pair of boxes, they will find either red blood/yellow LyoPlas or red saline/yellow saline.
The research team will determine whether there are any differences between those who receive blood products and those who receive clear fluids by reviewing the cases of several participating patients, also taking in to account the physical and biochemical evidence of the effectiveness of resuscitation.
Being mindful of patient's beliefs, the team ensures that people who may not want to receive blood products, such as Jehovah's Witnesses, are identified and specifically excluded from the trial in accordance with their wishes.
To date, 40 patients have been recruited into the trial nationally and, while the data is yet to be analysed, the funders have noted how well the trial is working. Following a very positive six-month review in June 2017, they have agreed to fund the entire study based on MAAC's performance as the pilot site.
The participating air ambulances are: MAAC (lead), East Anglian Air Ambulance, Essex and Herts Air Ambulance, Warwickshire and Northants Air Ambulance, Derbyshire, Leicestershire and Rutland Air Ambulance and MAGPAS Helimedix. Study partners include West Midlands Ambulance Service (WMAS), New Cross (Blood Bank), Midland Freewheeler Blood Bikes, Queen Elizabeth Hospital Birmingham, University of Warwick, UK Clinical Research Collaboration, University of Birmingham Clinical Trials Unit, University Hospital Birmingham, NIHR SRMRC, University Hospitals Birmingham NHS Foundation Trust , University Hospital Coventry and Warwickshire, Southmead and Royal Stoke University Hospital (the last three as receiving hospitals).
It's imperative that the trial operates with zero wastage of blood products, so any unused boxes are returned to the blood bank after 72 hours and the blood returned to national stock.
This study is only investigating the significance of pre-hospital element of care (as opposed to treatment on arrival at a major trauma centre).
A PDF about the RePHILL trial can be found here.