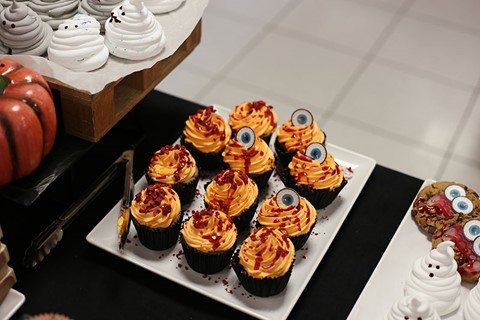 Throughout 2019, NEC Group staff undertook a range of fundraising challenges and events to support the lifesaving work of MAAC, as well as creating a 'one team' environment at the company.
The NEC Group is lucky enough to work alongside some influential corporate partners that forge strong and impactful commercial partnerships across the business. Sponsors and partners regularly donate their products to their charity team to raffle and auction off across the business to raise additional funds. Examples of items raffled off include [ITEMS].
The team from Amadeus led the way with baking incredible cakes to sell, and several members of the NEC Group team also donned their aprons and sold treats to raise further funds.
The NEC Group is proud to invest time into the wellbeing and development activities for its employees. This has included the annual NEC Group football tournament where the separate business units within the Group had some healthy competition and paid to enter the series of games. All proceeds and refreshments sold during this event were donated to MAAC.
Employees also participated in the MAAC 'Choose to Re-use' scheme by bringing in as many unwanted quality household items and clothing as possible. These items were sent to MAAC's charity shops and sold to generate essential funding.