There was an overwhelming sense of pride and achievement at Phoenix Group and the company's involvement was proactive and strategic from the outset.
Through talks and airbase visits, small groups of Phoenix Group employees received a more detailed understanding of the services, while regular bulletins and communication to staff about the cost of running the charities enabled all staff members to feel they were making a significant difference.

The company highlighted 75 per cent (an increase of 15 per cent on target) of the whole of the workforce undertook fundraising activities as part of the partnership, which is a significant increase on previous years of fundraising for charities. The partnership has also had a direct effect on attraction of new employees as the company's corporate responsibility goal, to be known in the local community as a responsible corporate citizen, is an increasingly attractive factor to new employees.
The final fundraising total for the first year of fundraising (April 2014-March 2015) stood at £232,000, an increase of 66 per cent on the projected target.
Overall, fundraising by Phoenix Group, stands at £1,000,000 for Midlands Air Ambulance Charity and London's Air Ambulance. This is due to the terrific level of commitment made by staff across the whole of Phoenix Group, as channelled by the company's dedicated Engagement Team.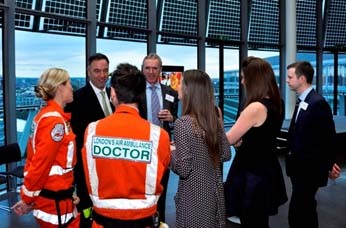 Demonstrating the dedication Phoenix Group showed towards MAAC and LAA, 58 per cent of the staff at the Wythall and London offices who voted to extend the partnership with the two charities for a further two years. This is down to the increased understanding of the life saving work of the charities and the important role air ambulances play in society.
During the first year, as well as exceeding the fundraising total and meeting employee engagement goals, the two charities shared insight with Phoenix Group staff on topics such as incident scene management, leadership and team collaboration, which has been shared across the group as part of the company's learning and development strategy. In addition, key staff members from Phoenix Group gained an insight into the work of the air ambulance after visiting helipads and meeting with HEMS doctors.
As a result of working with Midlands Air Ambulance Charity and London's Air Ambulance, Phoenix Group altered its CSR approach for 2015. For the first time in the company's fundraising history, it moved from a one year to three year charity partnership, and continuing to support the two charities until March 2017.
The partnership has left a legacy of benefits for all parties. In terms of the extensive investment into clinical care, the rewards will be felt by air ambulance patients for several generations to come.
For further information about The Phoenix Group, visit: www.phoenix.co.uk