The STANTON STILE HOP will build on its first year success and this year we will host a 2km off road fun run for children up to 9 years old, The original 5km multi terrain 'Stanton Stile Hop' and in addition for this year we are pleased to announce a 10km multi terrain race.
The 2km fun run will take part on a flat field and will be a 2000mtr out and back course. Keeping in with the 'Stile Hop' theme, there will also be a number of low height stile type obstacles on the course for the little entrants to jump and climb over. There will be no entry fee for the 2km run, instead we would kindly ask for donations to be placed in one of the Midlands Air Ambulance Charity buckets.
The 5km 'The Stanton Stile Hop' is the race that started it all off in 2018. This stunning course will take runners on a 5km loop from the centre of Stanton village on a mixture of terrain including quiet lanes, lovely woodland and across fields. As the event name implies, there are number of stiles on the course which all runners will need to climb over as part of the event. There is also the risk of some puddles and or lying water in places but this will be dependent on the amount of rain during the lead up to the event. The course itself has a steady rise to the half way point with the exception of the wooded climb, the course then starts to make its way back down towards the finish line in Stanton.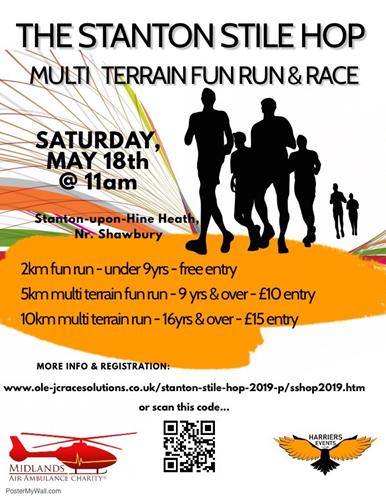 The 10km multi terrain race is a beautiful extension of the 5km route. At the half way point of the 5km route, you will be diverted off on to an additional 5km section where you will re-join the original 5km route for the final section back into the finish in Stanton. Again, the route is mostly on a mixture of field, woodland and farm track with a little bit of quiet country lane.
Both the 5km and 10km race will be started in the same location at the same time.
Runners of all abilities are very welcome. The 5km has an age restriction of 9 years and older and we ask that all children under 12 years old are within arm's reach of an accompanying adult throughout the race. The 10km race has an age restriction of 16 years and older (where the child is 16 by or on 18th May, 2019)
All registration and information can be found here: www.ole-jcracesolutions.co.uk/stanton-stile-hop-2019-p/sshop2019.htm
We have a Facebook group also – Stanton Stile Hop