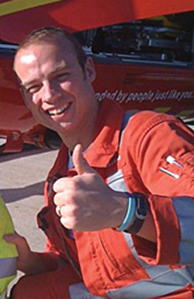 David Williams has been with Midlands Air Ambulance Charity for many years. He's married with a son called James. Before joining the ambulance service, David was a medic for HM armed forces.
David says, "I love my job. I start every day knowing that it will be different and will bring its own challenges. I also know that I'll meet so many interesting people.
I think that if I were not doing what I do now, I'd be facing similar challenges in humanitarian work in Africa."
In his spare time, David can quite often be found up to his neck in mud, running over Cannock Chase.