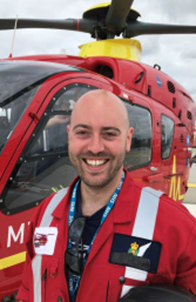 Grant has been in the Ambulance Service since 2009. It was his ambition to work on the air ambulance for many years.
He joined the team in April 2018 following a very competitive selection process.
Grant says: "I feel so privileged each day to work within, and be a part of, such a professional and dedicated team who offer the very best medical care to our patients."
Outside of work Grant enjoys music, mountain biking and the outdoors and has great support from his wife and three children.