<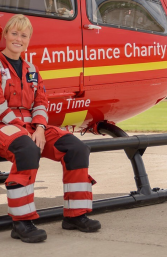 Karen has been in the ambulance service since 2001 and an aircrew paramedic since 2008.  
She's since developed as a critical care paramedic specialising in trauma. Karen says:"Personally I think that I have the easy job!  All the credit should be given to the fundraisers that raise all the money we require to keep us flying year in and year out."
Outside of work Karen has a son and when she's not flying she enjoys running, DIY and eating out.