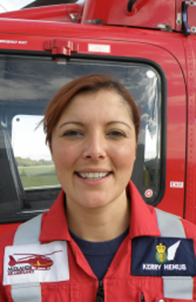 Kerry joined the ambulance service as a cadet in September 1997, with the ambition of joining the air ambulance once qualified.
In 2005, Kerry was selected to be part of the Midlands Air Ambulance Aircrew based at RAF Cosford. After completing her Critical Care Paramedic training.
Kerry became a Specialist Trauma Paramedic for Midlands Air Ambulance at RAF Cosford and now also works for MERIT (Medical Emergency Response Incident Team) and EOC (Emergency Operations Centre) on the trauma desk.
Kerry loves working for Midlands Air Ambulance and spending time with her daughter, Olivia.