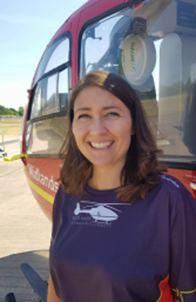 Sarah joined the ambulance service in September 1997 as an ambulance cadet.
Having been seconded to Midlands Air Ambulance Charity as a trainee Specialist Trauma Paramedic, Sarah feels extremely fortunate to be doing a job she loves.
She says: "I see first-hand that by working together, we can make a real difference to our patients. The fact that this is made possible by charitable donations is incredible."
Sarah has three children, so her spare time is spent running around after them, keeping her fit enough for the challenges she faces at work.
Sarah also likes to attend her local gym when she has the time.