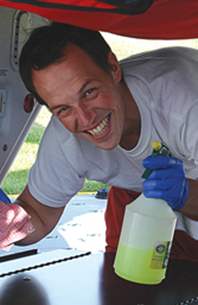 Steve 'Mitch' Mitchell joined the Ambulance Service in 1995 as a cadet and after ten years as a Paramedic was selected for Midlands Air Ambulance Charity.
Steve says, "I'm privileged to be part of a team that so benefits the outcome of the patient.
It's intense due to the nature of the situations we attend, but it's exciting and the fulfilment of a personal ambition."
Away from work, Steve's interests include hill and mountain walking and he's a keen cook (keen, not necessarily good!).