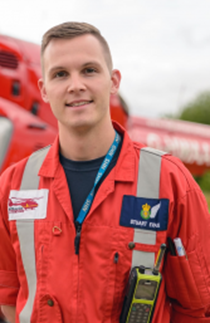 Stuart joined West Midlands Ambulance Service in 2010 as a newly qualified paramedic, and after just over two years secured a place with Midlands Air Ambulance Charity as a HEMS Paramedic.
He returned to university and completed his PG Diploma in Pre-hospital Critical Care and Advanced Clinical Practice, which has allowed him to work across our three aircraft as a Critical Care Paramedic for the last few years. Stuart now undertakes the role of a Specialist Trauma Paramedic: working onboard Midlands Air Ambulance, within the Emergency Operations Centre on the Regional Trauma Desk, as well as part of the Medical Emergency Response Incident Team (MERIT).
Having worked in the hospital setting as an advanced clinical practitioner, Stuart was inspired to return to university and extend his knowledge furthe, so much so, he is about to enter his third year of medical school at the University of Leicester to become a doctor.
Outside of work and university, he enjoys having coffee and cake with his friends and family and travelling to warm countries. Stuart is also a keen martial artist and hopes to grade for his 6th Dan black belt in Taekwondo in a few years, naturally testing his skills on his is twin sister (also a black belt) – nothing like a bit of sibling love!