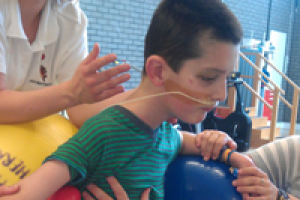 In July we told you the heart wrenching story of ten year old Joshua Dudley who spent 73 days in a coma after being hit by a car at Easter. 
Joshua's injuries were so horrific he was believed to be dead at the scene. The impact shattered both his thighs and shins and he suffered three fractures to his skull and a trapped optic nerve.  
Joshua was airlifted to Birmingham Children's Hospital and on route his injuries were assessed. 
"He was so badly injured doctors told us to prepare for the worst." explains his father, John Birchill.
Joshua survived that day and despite doctors believing they wouldn't see any significant changes in his condition for the first twelve months; Joshua woke up just over two months later.
He spent six weeks in hospital before moving to Tadworth Rehabilitation centre in Surrey, in August.
In the months following his accident, Joshua's story became a poignant case study to emphasise just how vital the charity and the golden hour truly is.
Joshua starred in the TV show 'Celebrity Wish List' and has since become a star! His miracle story has been splashed across local and national media and he has been inundated with interviews requests and kind thoughts. 
Most importantly the charity is thrilled to tell you that despite doctors fearing Joshua would not walk again and would be severely disabled, just months after the accident; Joshua is now well on his way to making a full recovery.
John said; ""Response time is crucial with brain injuries and if we had made the journey by land ambulance I dread to think what his lasting injuries would have been. Midlands Air Ambulance genuinely saved his life. Joshua's recovery is nothing short of a miracle. He is making small improvements every day. He is now walking unaided and can ride his bike again, with stabilisers. He is determined to walk round everywhere without any assistance."
However John explains that Joshua's lasting injuries are not only physical; "Sadly my son still thinks he can run around as carefree as he could before the accident. This often leaves him frustrated and upset. His therapists have explained to us that these emotions are something he needs to go through, to help him to mentally come to terms with what has happened.
We had to be very careful what we told him about the accident and we are conscious of flashbacks he may have. It will be a very difficult part of his recovery but most the time he is still the happy go lucky boy he was before the accident."
His rehabilitation programme involves a very intense structure. John explains; "We were asked to leave him to do things for himself, it's hard to sit back and watch your son struggle to wash and dress himself but he has to learn how to do things again. He has daily schooling in addition to his physiotherapy."
John said; "Overall words just can't describe his recovery. Midlands Air Ambulance saved my sons life. They gave him a second chance and nothing I can say could possibly come close to thanking them fully for saving my little boy"
Joshua's parents continue to work alongside their local Primary Care Trust to fund Joshua's rehabilitation.