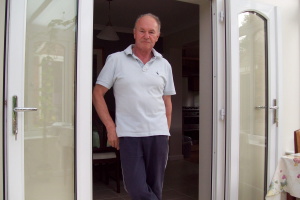 "I'm eternally grateful to everyone at Midlands Air Ambulance, I'm still here because of them."
The 14th February 2012 is one day David Hart will remember for the rest of his life. Unfortunately not because it was Valentine's Day, but because it was the day he had a heart attack.
David, from Westbury in Shropshire, led an active lifestyle keeping fit with his passion for walking and gardening, plus he had a healthy diet, so when he felt discomfort in his chest, it was easily misdiagnosed for indigestion.
Retired teacher David recalls the day of his heart attack: "I was having some renovation work done to the house and thankfully the decorator was with me that day. I didn't feel well for over a week, and on the actual day of the attack I felt extremely weary and my chest pain started to worsen, so I went for a lie down and that's when it happened. It came on very quickly and was a pain like no other."
Thanks to the swift reaction of the decorator, a land ambulance was quickly on the scene. David was given immediate treatment and attached to a cardiogram to assess his condition, but paramedics knew that David wouldn't survive the hour and half journey to New Cross Hospital in Wolverhampton by road – that's when the Midlands Air Ambulance, based at Tattenhill was called.
David adds: "I was conscious for the entire time, so remember everything very vividly. The paramedics were fantastic and kept talking to me to reassure me about what was happening. It was very surreal being taken to the famous red helicopter and then airlifted to the hospital, the transfer took just 12 minutes and I felt like I was on a film set as the doctors and nurses were ready and waiting for me when we arrived.
"I certainly took advantage of the 'Golden Hour' – if I hadn't been airlifted and taken to the hospital so quickly, I know I wouldn't be here today.
David was I was operated on immediately and fitted with a stent to help prevent any further problems. He spent a few days on a ward recovering before being discharged and allowed home."
"One of my sons lives in Dubai and flew back to pick me up and look after me. Although I enjoy seeing him, I wish it was under better circumstances," David notes.
Like many fit and healthy people who've suffered a heart attack, in the aftermath David found it difficult to trust his body again and was signed up as an outpatient at the cardiac rehabilitation unit. He spent time in the exercise room slowly regaining his health and confidence.
David continues: "Little over a year on and I'm now going to the gym two or three times a week, which is very satisfying and I'm able to enjoy the garden and walking again. Although I feel back to my old self, I don't take anything for granted, especially the work of the team at the Midlands Air Ambulance Charity. They literally saved my life with their swift actions, I never thought I'd need to rely on them, but unfortunately I did, and for that I'm extremely grateful."
To support the service, David has written a collection of poems which he aims to sell for donations of £2 or more to raise funds. As part of his on going fitness regime David has been walking in the Shropshire countryside, which inspired his delightful writing. If you're interested in finding out more about how you can purchase the folio of poems, please get in touch with us at the MAAC.