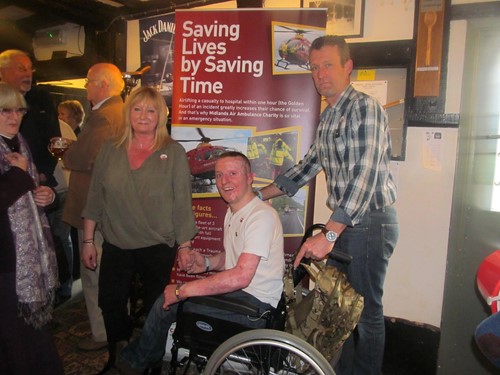 Wednesday 20th August 2014 proved to be a life-changing day for Harry Thomas. Aged 20, travelling through Canon Pyon, Herefordshire, his car malfunctioned causing a major road traffic collision.
Harry, now 25-years-old, has allowed us to share his story.
Following a fault on Harry's car, he and the vehicle hit a brick embankment propelling it to the other side of the road. It hit a tree and caught fire.
Harry explains: "I was trapped, I tried to get out, but my left leg was stuck. I knew I had to get out, so I pulled my leg as hard as I could and fell into a ditch."
His next memory is waking up in hospital having remarkably survived an incredibly serious incident, but his recovery had only just begun.
MAAC's critical care paramedic, Fay Pollock, helped treat Harry and explains: "Within a moment of looking at Harry, we recognised he was a time critical patient and advanced care on scene and transportation to a major trauma centre was necessary.
"It was important we secured Harry's airway and took over his breathing. There is always a greater risk of losing an airway in patients who have suffered burns as the throat can often swell meaning air can't pass in and out of their lungs.
"We placed Harry into an induced coma and artificially ventilated him.
"We then treated his extensive burns with water irrigation and cling film and secured his fractured bones using a variety of splinting equipment that we carry on-board."
Following lifesaving intervention on scene by medics on MAAC's Strensham aircraft, Harry was conveyed to Queen Elizabeth Hospital.
The incident caused complex injuries resulting in Harry spending three months in hospital. These included: 63 per cent full thickness burns; left leg above-knee amputation; four fractures to his right leg; breaks to both arms; multiple rib fractures; bruises on his lungs; abdominal wounds; and bleeds on his brain.
Harry's rehabilitation is ongoing, he still attends appointments with his plastics consultant and has regular reviews for his skin and prosthetic.
When asked what inspires him to continue, he answers: "My freedom. I must get on with it, I was placed in a situation that I had no control over, but I have control over what I do from here."
Following the incident, Harry held a fundraiser in his local pub, The Crown Inn in Dilwyn, Herefordshire, which raised in excess of £1,495 funding six critical care car missions.
Harry concludes: "I would like to thank all the emergency services that attended and the hospital staff for saving my life.
"Without MAAC, I wouldn't have got to the hospital in time for the lifesaving surgery I needed."