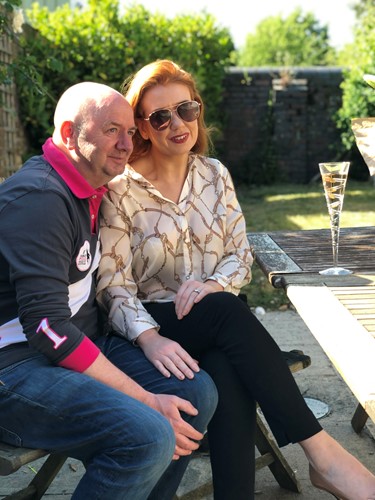 I shouldn't be here, the odds were against me, but thanks to Midlands Air Ambulance Charity and the emergency services, I'm here to tell my tale. Kevin Stevens.
Kevin Stevens from Warwickshire has always had a connection with Midlands Air Ambulance, having previously worked as a commercial chartered surveyor in the late 1980s in the very building that now houses the charity's headquarters – Hawthorn House in Stourbridge.
What Kevin did not expect was to also become a patient of this essential pre-hospital service. One September afternoon in 2012, Kevin was driving along his driveway, when a suspected stroke at the wheel caused his right foot to slam on the accelerator. After clipping a tree, the car spun uncontrollably, and crashed into a tree side on, causing Kevin to suffer further life-threatening injuries.
Kevin, a father of three, was in a critical condition and in urgent need of advanced clinical care. While MAAC's primary operating patch is Gloucestershire, Herefordshire, Shropshire, Staffordshire, the West Midlands and Worcestershire, on average four per cent of incidents attended are out of area. Due to Kevin's fragile state, the expert clinical aircrew from the RAF Cosford airbase were dispatched to the scene alongside the team from Warwickshire and Northamptonshire Air Ambulance.
Kevin states: "I don't recall the day of the incident at all, and I'm still piecing the day together, but I have been told the severity of the accident meant land ambulances, the fire service, police and two air ambulances, including one of Midlands Air Ambulance Charity's helicopters were all scrambled to assist me."
Consultant Dr Neil Abeysinghe for MAAC said: "A stroke can be life threatening. This, coupled with a crash at 70mph and Kevin was in a very poorly state when we arrived. It was a real team effort with two differing air ambulance organisations in attendance to provide Kevin with the very best clinical care available. We all worked together with the other emergency services, providing advanced critical care to stabilise Kevin's condition while the fire service extracted Kevin from the vehicle. It was a complex job and took a number of hours. It's incidents like this where the advanced medication and procedures we can bring to the scene really do make a difference as we were able to keep Kevin stable while he was still in the car and during the process of freeing him from the wreckage ."
The crash left Kevin with extensive injuries, his most severe included several fractures to his skull, he broke all but three ribs and his back. "I was a bit of a write-off to be honest," states Kevin.
Once he was extracted, the MAAC aircrew further stabilised Kevin before Warwickshire and Northamptonshire Air Ambulance flew Kevin to the major trauma centre, Coventry Walsgrave Hospital, where he was put into a medically induced coma for over a month. He was ventilated, fed by tubes and later learnt his heart went into cardiac arrest 17 times while on the operating table at the hospital. Kevin comments: "I'm known for being determined in my career, but I'm glad to say I was clearly a fighter when it comes to my health too."
On waking in the hospital, Kevin had to slowly learn of the horrors of the accident, the injuries he sustained, and the fact he was going to have to start a path of rehabilitation to full strength. After six weeks in the major trauma centre, Kevin was strong enough to head home for ongoing recovery.
"Eight years on and I still have outpatient appointments at a number of hospitals depending on their specialism. It's been quite a journey, but I'm a better person for it. I married my girlfriend who was by my side throughout this ordeal and am now working to support those less fortunate than myself. I'm here because of those wonderful people who never gave up on me, and I can't thank them enough."