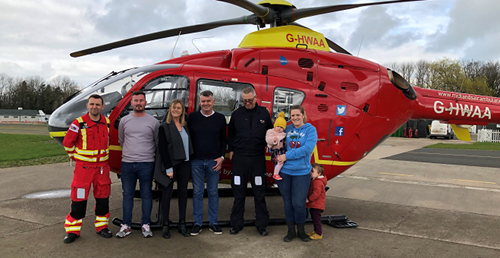 It was like any other day for Paul Martin, at work at the local recycling centre in Cheslyn Hay. He and his wife, Karen, had both worked there for over 30 years.
One day in September 2017, Paul offered to help a customer purchasing some sand, as the usual person who did this role was busy. As Paul approached the aggregate bays, a 3.5 tonne truck reversed over him, knocking him to the ground.
Both front and back tyres went over Paul's head, crushing his skull into the ground.
"I heard a thud, everything went black, and my last thought was I hope they tell my wife what had happened," recalls Paul.
Paul's work colleagues phoned an ambulance and explained the situation. Due to the seriousness of the incident, MAAC was immediately called out.
Paul's wife, Karen, was told what happened and rushed out to be by her husband's side, sitting with his head in her lap.
"I was told an air ambulance was on its way, and a minute later they were there," says Karen.
Dr Paul Dias and critical care paramedic Allister McNeill came to the scene in the rapid response vehicle from the RAF Cosford airbase, and the helicopter from Tatenhill was dispatched, with Captain Simon Reece and critical care paramedics Pete Edwards and Karen Baker.
The car and helicopter arrived within four minutes of each other, and on arrival, the crew assessed Paul's injuries.
He had a deep cut to his lip which had bled heavily, blood coming from within his right ear, unequal pupils, severe upper back pain, cuts to the right side of his chest and abrasion on his left knee and ankle.
He was initially conscious and alert but his symptoms indicated a base of skull fracture. The crew were also concerned about a chest injury and in particular a collapsed lung on his right side. Paul also had a back injury, although thankfully no signs of paralysis.
Being in this condition, Paul needed direct transport to a major trauma centre.
The aircrew loaded him onto a scoop stretcher and gave him morphine and an anti-sickness drug through an intravenous drip, before flying him to the Queen Elizabeth Hospital in Birmingham.
It only took six minutes in the air, and Paul was in hospital within an hour of the initial call.
Paul was not expected to have survived his injuries. He had five skull fractures, a main arterial bleed to the brain, five cheek fractures, a broken eye socket, eight broken ribs, a punctured lung and had to have his collar bone rebuilt. For six weeks after the incident, he was also at a high risk of suffering a stroke.
For the two weeks following the incident, Paul had no memory of what happened, and spent four weeks recovering in hospital.
Paul now suffers with post-traumatic stress disorder, and has blurred vision on his right hand side.
"I struggle to be in a public place, as I get nervous about my lack of vision. I also don't work anymore because of the brain trauma, but my old work colleagues have been really supportive."
Paul also has his loving wife Karen, five children between them, and grandchildren, to take care of him.
"They've all been so supportive of what I've gone through, and came to visit me in hospital to help me through my recovery. My two stepsons, Ben and Jack, undertook a skydive for MAAC and raised £1,200."
Paul and his family paid an emotional visit to MAAC's Tatenhill airbase in March this year, and Paul met Pete Edwards, one of the aircrew who attended the scene.
"They will never know how much it means to me and my family that they saved my life. Thanks to them, I still have a future."
Find out how you can support us so we can continue to help people like Paul.