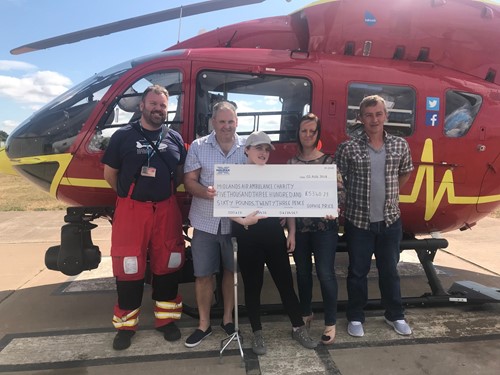 On Ribbesford Road, Bewdley, Worcestershire, 18-year-old Sophie Price was involved in a road traffic collision with another vehicle on her way home from college in March 2018.
Two ambulance crews attended to treat Sophie's life-threatening injuries. Her quickly deteriorating state coupled with the severity of the collision meant that the emergency services' call handler dispatched MAAC's helicopter, HMED03, from the RAF Cosford airbase.
On-board was Dr David Balthazor and critical care paramedic, Pete Edwards.
Pete recalls: "It became immediately apparent that Sophie was critically ill – she was unconscious and had begun to vomit – meaning she was unable to maintain her own airway. There was a risk that vomit would leak into her lungs, causing a decreased amount of oxygen getting to her brain."
It was evident Sophie's life was hanging in the balance, and further advanced care was required on scene to give her the best chance of surviving.
Pete adds: "We anaesthetised Sophie and placed a tube into her wind-pipe allowing us to take control of her breathing. This helped us administer pain relief and limit further injury to the brain.
"The accident happened a long way from the hospital. By getting the air ambulance team to the scene, we were able to perform procedures that are usually only carried out in hospital."
Sophie was conveyed to the nearest major trauma centre at Birmingham's Queen Elizabeth Hospital via land ambulance.
Pete explains: "It was a dark, winter's night meaning the hospital's helipad was closed so we were unable to fly. On route to the hospital, Dr David Balthazor continued to provide critical care and helped stabilise Sophie."
Once the team arrived at the hospital the full extent of Sophie's injuries were identified. They included; two bleeds on the brain; an excess in fluid causing increased pressure on her brain; a burst artery in her neck; multiple fractures to her skull, neck and eye sockets; and a collapsed lung.
Sophie underwent surgery to repair the severed artery. However, she later encountered unforeseen complications which lead to her suffering a major stroke lasting approximately four days. Parts of her skull and brain were removed to stop swelling in two further lifesaving operations. Sophie remained in hospital for five months.
"The road to recovery has been a long one, the accident has had an impact both physically and mentally," says Sophie, now aged 20.
"Although I have finished my rehab programme, I still go walking to strengthen my muscles. I require a wheelchair for longer distances."
"Midlands Air Ambulance are heroes in the skies. The crew inspire me every day and I stay positive and determined because I know that negativity gets you nowhere."
Sophie has since gone on to fundraise for MAAC, raising £5,360 funding 13 missions – one air and 12 by critical care car.
She concludes: "I'm extremely happy to be alive thanks to the intervention of total strangers, West Mercia Police, Midlands Air Ambulance and the ambulance service along with other NHS staff."