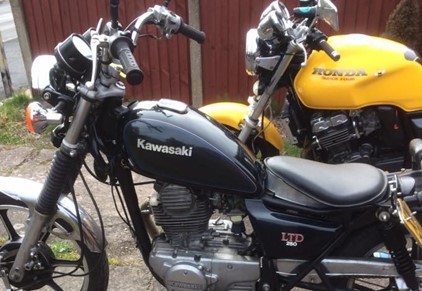 After a seemingly ordinary day at work, one man's journey home during rush hour turned out to be anything but when he was involved in a road traffic collision while riding his motorbike.
After a shift as an MOT technician in Kidderminster, William Russell, jumped on his motorbike to make the eight-mile ride home - a journey he'd done every day for the past eight years.
William, who has been riding motorbikes from a young age, was travelling on Norton Road in Worcester when on the approach to a T junction, was hit by a car.
Commenting, he said: "The car came from nowhere. The force took me off my bike and hit another car coming the other way and I remember very little after that - everything went black and the only thing I can recall is seeing the blades of the air ambulance above me."
Fortunately for William, an ambulance happened to be in the area and paramedics helped out before MAAC arrived. The team from the charity's RAF Cosford airbase arrived within minutes to treat William.
Stephen Mason, a critical care paramedic, said: "It was obvious William had sustained some really nasty injuries, particularly to his chest, pelvis, leftleg and foot. We carried out an ultra-sound on his lungs, fitted a pelvic splint and administered pain relief, including ketamine and morphine. He was tachycardic, which means his heart rate was exceeding the normal average beats per minute, we didn't know if it was due to shock or internal bleeding.
To support his heart rate, we gave him drugs to maintain his blood pressure. It was also difficult to find and restore circulation in his foot, so getting him to the specialist vascular surgeons at the Queen Elizabeth Hospital in Birmingham was critical."
The aircrew flew William to the QE Hospital in under 20 minutes.
On arrival, it was found William's injuries were extensive. They included broken vertebrae, an open tibia hip fracture, ruptured cruciate ligaments, concussion, broken ribs, a lacerated liver, a fractured knee, multiple fractures to the left foot and serious nerve damage to his left side and bowel.
Two operations followed; the first to insert a pin through his leg to pull his pelvis back into place and the second to fit a frame around his pelvis. He remained in hospital for eight weeks and the road to recovery has been a long one, which continues to this day.
The accident has not only left physical scars, but mental ones, too. William suffers with Post Traumatic Stress Disorder (PTSD), which he says has been eased slightly following his regular sessions with Headway - a charity that works to improve life after a brain injury. He takes painkillers every day, his mobility and concentration levels are impaired and he attends yoga once a week to help his knee ligaments.
William continues: "The accident has been life-changing. I can no longer work - and won't ever do so again but I live in hope that I'll be able to carry out volunteer work when I'm feeling fitter. It's important I keep busy so I make bird boxes and donate any proceeds to Headway as my way of saying
'thank you' for the support they've given me.
"I also donate to MAAC. Put bluntly, I don't think I'd be here to tell my story without the help of this charity. I really do owe my life to them." However, despite his injuries, the collision has not put William off motorbikes.
He concludes: "I'm about to start a compulsory basic training course to make sure I can ride safely on my own in the future as I have my heart set on a little Kawasaki number! I have to believe that I'll get back on a bike again. That's what motivates me every day to get stronger."
Find out how you can support us so we can continue to help people like William.