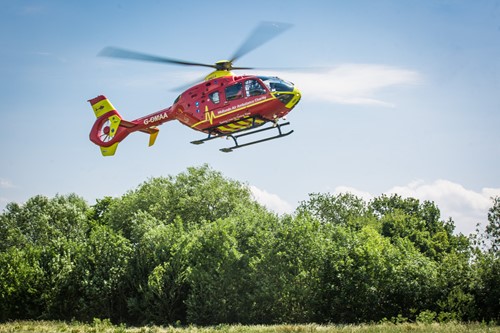 After finding out Midlands Air Ambulance Charity's potential fundraising deficit, following the COVID-19 lockdown period on the local news, author, Richard Harper, decided to donate the proceeds of his new book to the lifesaving organisation.
Richard Harper, who now resides in Staffordshire, penned a recollection of his schooldays at St Elizabeth's Roman Catholic Boarding School in Bullingham, before the Second World War. Richard was asked by the archivist at Herefordshire's Croft Castle to record his memories of wartime shortages which resulted in the writing of Grace and Flavour at Croft Castle.
Having spent time writing down fascinating anecdotes following his school's evacuation and lockdown at Croft Castle, Richard tuned into his local news. He watched a piece discussing how the effects of a national lockdown to prevent the spread of COVID-19 was having an impact on the fundraising efforts of Midlands Air Ambulance Charity, with the local organisation forecasting a 48 per cent drop in income.
Richard then decided he wanted to help the rapid response, emergency service by ensuring a significant donation from the sales revenue of his book is given to the vitally important charity.
Kelly Weatherer, Staffordshire fundraising executive for Midlands Air Ambulance Charity says: "We are extremely grateful to Richard for thinking of us and donating a significant amount from the sale of his book to us.
"We do not receive any Government funding for our daily missions, so any funds raised and donated by generous members of the public, like Richard, really do help us make our lifesaving missions possible."
Richard Harper, author of Grace and Flavour at Croft Castle: Memoirs of my Schooldays, adds: "Everyone is aware of Midlands Air Ambulance Charity's worth. We might never need them but its pleasing to know that should we really be in trouble, the air ambulance will arrive, without question and without charge."
The book is available to purchase for £12 with an additional charge of £2.60 for packaging and postage. If you're interested in buying a copy, get in touch with Midlands Air Ambulance Charity via email: info@midlandsairambulance.com.
For more information on Midlands Air Ambulance Charity, you can visit midlandsairambulance.com and follow the organisation on social media.