We're delighted to have  received £54,207.28 from Barratt West Midlands after being names the Halesowen-based homebuilder's charity of the year for 2019.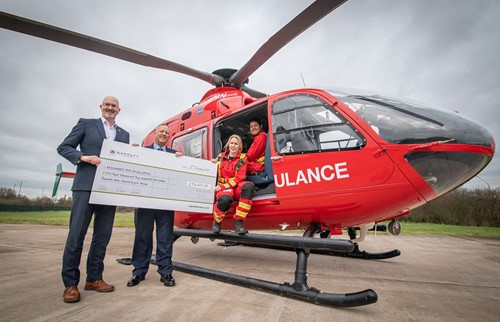 During the last year, Barratt West Midlands raised the funds through a series of charity initiatives including a staff golf day at Halesowen golf club, a staff boxing event, and weekly dress down days at its central office and developments in the region.
The funds raised by Barratt West Midlands are able to cover the cost of either 21 helicopter missions or 241 car call-outs.
"We selected the Midlands Air Ambulance as our 2019 charity of the year because we believe in giving back to the community," said Adrian Farr, Managing Director of Barratt West Midlands. "The funds raised are a reflection of our staff's belief in supporting local organisations and we are thrilled to help the Midlands Air Ambulance shoulder some of their annual operational costs."
Emma Gray, fundraising and marketing director for Midlands Air Ambulance Charity, added: " Barratt West Midlands' commitment to support our charity over the last 12 months has been impressive. By raising over £50,000 has provided pre-hospital emergency care to communities across the region funding seven helicopter and 148 critical care car missions.
"We would like to say an enormous thank you to Barratt and it was a privilege to be their charity of the year for 2019.
"We look forward to saving more lives across the Midlands in 2020 thanks to the company's support." In just eight minutes, the Midlands Air Ambulance is able to reach 90% of those across the region who require urgent medical car. This gives patients a higher chance of survival as the first hour following a patient's trauma is the most crucial.
For further information on Barratt Homes West Midlands developments please call the sales information line on 0333 355 8475 or visit www.barratthomes.co.uk