A Worcestershire-based brass band presented Midlands Air Ambulance Charity with a cheque showing its fundraising efforts.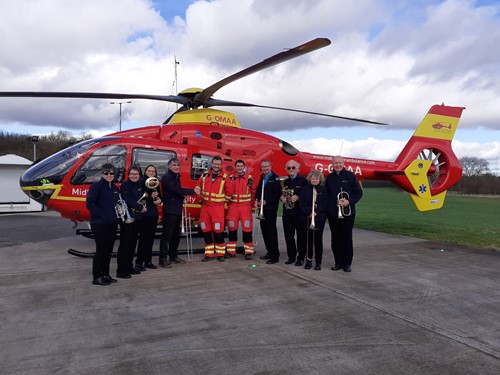 Malvern Chase Brass Band raised in excess of £1,200 and band members were invited to the charity's Strensham airbase in Worcestershire to present a cheque and see how its donation would make a difference to the lifesaving service.
The brass band, whose members ages range from eight to 80, played a range of songs whilst representing and collecting for the charity.
Charley Burke, Worcestershire fundraising executive, said: "We always welcome the support from local community groups, like the Malvern Chase Brass Band. Without fundraisers such as these, our lifesaving service would simply stop."
Peter Hughes, chair of the Malvern Chase Brass Band, added: "On behalf of all the members of the Malvern Chase Brass Band. I would like to thank every single person who kindly left a donation whilst enjoying our music. We are proud of our fundraising efforts for Midlands Air Ambulance Charity and its vitally important cause."
Malvern Chase Brass Band are always looking for new musicians to get involved, so if you are interested in playing along, please visit: mcbb.uk to find out more.