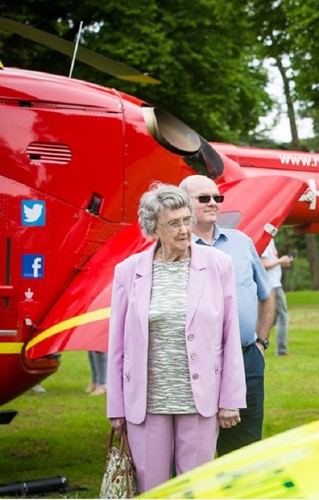 A longstanding and committed volunteer for Midlands Air Ambulance Charity, Elspeth Martin, was awarded the British Empire Medal in the Queen's 2020 New Year's Honours List for her charitable services to the lifesaving, rapid-response emergency service.
Following years of dedicating her time to Midlands Air Ambulance Charity, which operates and funds three air ambulances and two critical care cars across the Midlands, the charity supported the nomination for Mrs Martin as she was so deserving of this prestigious award.
Elspeth Martin shared of her delight and surprise to receive such highly regarded recognition from a charity she loves. She said: "When I received the congratulatory call, I was absolutely amazed."
Not long after the establishment of Midlands Air Ambulance Charity, in 1991, one of Elspeth's friends was rescued by the service after sustaining injuries in a road traffic collision. She was airlifted and taken to hospital in Birmingham. Ever since, Elspeth and her husband, a past Mayor of Solihull, Mr Alan Martin have dedicated so much of their time to the vital, lifesaving service.
Elspeth summarised: "I now consider Midlands Air Ambulance Charity as a family to me."
Alison Hill, volunteer and donor support manager for Midlands Air Ambulance Charity, said: "Nothing is ever too much trouble for Mrs Elspeth Martin. Elspeth is a great community ambassador and is the face of the charity in her local area.
"She is a great member of our charity family and we are very grateful for all her help and support."
Throughout the pandemic, Elspeth has continued to show her dedication to the lifesaving charity by accepting donations of unwanted goods for the charity's high street shops and holding a socially distanced, COVID-19 secure tombola on her front lawn. The tombola alone raised £265 – funding one of the rapid response service's critical care car missions.
To find out about volunteering opportunities with Midlands Air Ambulance Charity, please visit: midlandsairambulance.com/volunteer and follow the organisation on social media.