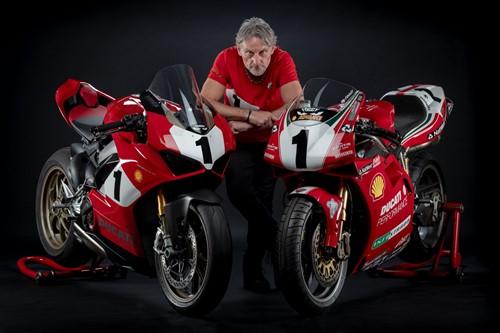 Sunday 24th April marks the return of Midlands Air Ambulance Charity's annual Bike4Life Ride Out and Festival which has the support of some of the UK's famous celebrity bikers.
The event, one of the biggest biker ride outs in the country which attracts more than 6,000 people every year, sees participants travel in a 23-mile convoy from Meole Brace in Shrewsbury to RAF Cosford, the home of the Bike4Life Festival in Shropshire.
A host of celebrity bikers have announced their attendance at this year's event, including:
- Mathew 'Ollie' Ollerton - A former UK Special Forces Soldier and widely known as a directing staff (DS) from Channel 4's popular SAS: Who Dares Wins.
- Carl 'Foggy' Fogarty MBE - motorcycle racer and one of the most successful world superbike racers who holds second highest number of race wins at 59 is attending for a fifth time after leading the Charity's Bike4Life events in previous years.
- Steve Parrish - British former professional motorcycle and truck racer, and television commentator who was a teammate to Barry Sheene in the 1977 500cc world championship.
- Douglas "Dougie" Lampkin MBE - former professional motorcycle trials and endurocross rider, notable for being a seven-time motorcycle trials world outdoor champion.
- Danny Buchan – British superbike racer for the SYNETIQ BMW Racing 2022 team and two times British superstock champion.                                                                                             
Carl Fogarty MBE, a proud Bike4Life supporter said: "Bikers are amongst the most vulnerable road users. This annual event highlights and recognises the vital role of Midlands Air Ambulance Charity, which rapidly reaches and provides enhanced treatment for so many motorcyclists every year.  I couldn't be happier to lend my support. I hope people are inspired to book their place as it promises to be a great day out for a fantastic cause."
Emma Wood, head of fundraising and marketing for Midlands Air Ambulance Charity, added: "To have four of the biggest celebrity names in biking attend our event is a huge coup and I'm sure it'll prompt others to join us on the day. However, numbers are strictly limited to 3,500 bikers and we've already sold more than 2,300 tickets, so we expect the event to be a sell-out within a matter of weeks.
"It costs just £10 to take part and all proceeds will help our lifesaving, critical care crews continue to treat the Midlands' and Gloucestershire's seriously ill and injured patients. Tickets are allocated on a first come first served basis, so I'd urge anyone interested to book now to avoid disappointment."
The Bike4Life Ride Out and Festival, sponsored by the RAC and supported by road safety training company TTC Group, and West Mercia Police, concludes at RAF Cosford in Shropshire for a Festival of live bands, opportunities to meet the crew and food stalls. To book visit the Bike4Life website.
To find out more about Midlands Air Ambulance Charity's vital, lifesaving work in your local area, visit the website and follow the organisation on social media.
Find information on the RAC here.