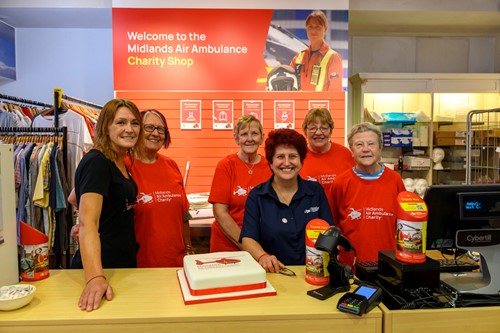 (Image photographed by Nigel Wood) 
Scores of people gathered on Hereford's Commercial Street to be at the front of the queue to browse Midlands Air Ambulance Charity's first charity shop in Hereford, and went on to raise a staggering £1,500 in the process.
Savvy shoppers raised more than £1,500 through purchases on the charity's first day's trading in Hereford, helping to fund five lifesaving critical care car missions.
Anil Gupta, head of retail for Midlands Air Ambulance Charity, reacted to the news. He said: "Having served Herefordshire with our rapid response emergency service for more than 30 years, we are extremely proud to have opened our first shop in the county. We are also extremely grateful to everyone who made the first day such a success."
The opening also saw the launch of the charity's first Community Hub, which is located on the first floor of the shop. The free facility will be available for local groups, organisations and businesses to book in the coming months for meetings, gatherings and they can also book sessions to learn more about the charity's lifesaving cause.
In addition, across the summer holidays, Midlands Air Ambulance Charity will be hosting weekly colouring competitions for families to enjoy in the Community Hub between 10am-2pm. See the event dates below:
Thursday 10th August
Tuesday 22nd August
Thursday 31st August
To learn more, donate pre-loved goods to the charity's Hereford shop and for more information on the Community Hub, please visit our high street shops page.