Like many men of a certain age, a Midlands dad is eyeing up a motorbike to rev up his leisure time. But Dave Southam is already really rocking his world.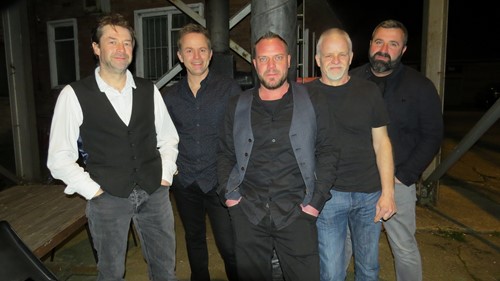 The boss of a northern European sales team is preparing to whip up the crowds as the lead singer of The Killers tribute band Sam's Town and that's not all.
He'll be making his big debut when the band headlines at the mammoth Upton-upon-Severn Drunken Monkey Rock Festival. 
What's more, it will be the first time he's sung in public, other than with pals, the odd karaoke blast and a couple of warm up gigs so, on this scale, it will be a real baptism by fire.
"Blame the midlife crisis," smiles Dave, 37, who lives in the town with Worcester hair and beauty salon owner wife Bex and their 16-year-old son Herbie.
"I work long hours and wanted a bit of an escape by doing something that took me out of my comfort zone. This does!
"I'm used to giving work presentations to hundreds of people but this is something else - nerve-wracking but also exciting." 
He's better known to Festival goers and fellow committee members as Dave the Gate, a dedicated volunteer marshalling hundreds of cars and fans.
Now he's Dave The Killers expert, spending hours studying the music to perfect his Brandon Flowers' role to be pitch perfect for drummer Chris Harvey's popular band.
"He's bang on and this is our best line up yet," says Norton man and long-standing volunteer and committee member Chris, who runs Pershore's Tower Studios and the Festival's Tower Stage.
The August 2-4 Festival (www.drunkenmonkeyrockfest.co.uk) is the sixth organised by volunteers in memory of Ian Downton to raise funds for the Midlands Air Ambulance Charity. Committee members have this  year renamed the main stage the Ian Downton Stage as a fitting tribute to their friend. 
Last year's event stumped up more than £9,000, bringing the total to £31,000 for the charity, which has completed nearly 55,000 missions since 1991, all 100% funded by donations.
"The Festival, the team behind the event and the festival goers yet again raised an incredible amount for our charity, for which we can't thank them enough. Last year's donation helped to fund four lifesaving missions, and in total the festival has supported 12 missions in the past few years," says Michelle McCracken, Worcestershire fundraising executive for Midlands Air Ambulance Charity.
Tickets sales for 2019 are already massively up on this time last year as fans clamour to see more than 50 bands performing on two stages over three days.
Headliners for the main Ian Downton Stage are Worcestershire's 3Sixty, Essex Led Zeppelin Tribute CODA and Cambridge's Credence Clearwater Review.
Sam's Town - whose line up is completed by Malvern's Steve Byrne on bass and Dave Baddeley on keyboard, plus Kidderminster-based guitarist Daz Keen - hit the Tower Stage on Saturday night.
Friday's stars are Cheltenham punk band Suicide Watch and Birmingham blues outfit Vincent Flatts Final Drive chill out on Sunday.
Tickets are available from the festival website or wegottickets.com 
The Festival team is offering Midlands businesses sponsorship deals for 2019. Contact josiehoskins@hotmail.com for more details.