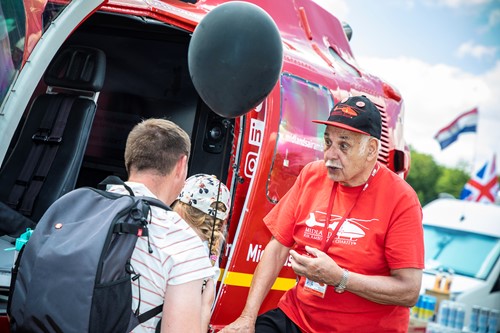 Longstanding volunteer of Midlands Air Ambulance Charity, Geoff Woodford, has now retired from his daily support of the rapid response, pre-hospital emergency service after 30 dedicated years.
Octogenarian Geoff, from Rowley Regis in the West Midlands, started volunteering just three months after the charity was founded in May 1991, after a friend asked him to support the new service. Geoff's initial response was: "I know nothing about the air ambulance, but I'll find out!"
On visiting the charity's first portacabin office in Dudley, Geoff bumped into another friend, one of the service's first employees, who asked a favour – to empty the first collection tin in Smethwick, and the rest, as they say, is history.
Geoff Woodford, dedicated volunteer for Midlands Air Ambulance Charity looked back over his time with the service and recalls: "From emptying fundraising collection tins, attending talks and cheque presentations, and manning the demonstration helicopter pod at events, I thoroughly enjoyed every minute I've spent with everyone at the air ambulance.
"As a park ranger in my professional life, I always had to tell people off. Get off the grass, dismount your bicycle, or pick up your litter! Volunteering for Midlands Air Ambulance Charity meant I could always say yes as children could clamber into the helicopter pod and play happily; it was great to see."
In recognition of his service, Geoff was presented the Volunteer Award at the Midlands Air Ambulance Charity Recognition Awards and Charity Ball in 2013 and was also the winner of a Dudley Volunteer Award in 2015.
Alison Hill, volunteer manager for Midlands Air Ambulance Charity, adds: "Geoff made it his mission to do all he could for Midlands Air Ambulance Charity, and did something every day to assist us. He always has time for everyone and is an incredible ambassador for the charity. He is admired by everyone, including staff, clinicians and his fellow volunteers and Geoff will always remain one of the team. Thank you just doesn't seem enough, and we wish him, and his wife, May, all the best in their well-deserved retirement!"
Having the last word, Geoff says: "It has been an absolute pleasure to be part of the Midlands Air Ambulance Charity family. May, who has supported me throughout my entire life, and I, will still attend charity events and fundraisers as soon as we can."
To find out how you can get involved in volunteering opportunities offered by Midlands Air Ambulance Charity, please visit: midlandsairambulance.com/volunteer and follow the organisation on social media.