A huge thank you to everyone who voted for MAAC in M6toll's Drive For Charity campaign.
Some of our team attended their Fun Day at Roadchef Norton Canes, where we were announced as the winners of the £20,000 grant!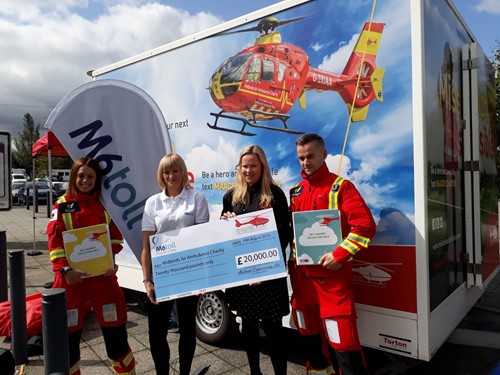 Over the next 12 months we will receive the funding from M6toll to support our Sky Champs' Education Programme.
The Programme provides educational resources to empower responsible citizenship, increase knowledge of future careers and raise awareness of the charity amongst young people. 
An additional £8,000 was awarded to the fantastic Staffordshire Wildlife Trust, towards the introduction of community engagement sessions. To promote spending more time outdoors, providing health benefits, reducing social isolation, developing skills and offering activities for young people and families to learn together.
M6toll chief executive Andy Cliffe said: "Since the M6toll opened 15 years ago, we have donated more than £1million to regional good causes.
"We are delighted that the public got behind Midlands Air Ambulance Charity to vote them as our Drive for Charity Partner and we look forward to working alongside them over the next 12 months."
Emma Gray, fundraising and marketing director for Midlands Air Ambulance Charity, said: "The M6toll has been a committed and supportive partner to the charity for 15 years, and we are truly grateful to them, and to everyone who voted for us, for the opportunity to further develop our Sky Champs Education Programme.
"Sky Champs has proven to be a vital tool in supporting young children's education, bringing lessons to life with real examples from Midlands Air Ambulance Charity. As it is National Curriculum-based, lesson planning is simple, and classwork is both fun and engaging. Thanks to the support from M6toll, we will be expanding the programme to enable us to reach more schools within the six counties we cover."
Find out more about the Sky Champs' Education Programme here. 
In addition to its charity of the year, M6toll also offers a monthly cash fund of up to £1,500 for local schools, sports clubs or voluntary groups through its Drive for Charity in the Community scheme. Applications can be made at: www.m6toll.co.uk/about-us/drive-for-charity
Andy Cliffe added: "We look forward to supporting many more local groups to make a positive difference along the route of the M6toll."
Details of community and charity support work undertaken by M6toll under its Drive For Charity programme can be found at www.m6toll.co.uk
The M6toll runs for 27 miles, from Junction 3a on the M6 all the way round the North East of the West Midlands, re-joining the M6 at Junction 11a. The road has an exemplary safety record and is equipped with emergency telephones, 24-hour control room and mobile Incident Support Units.