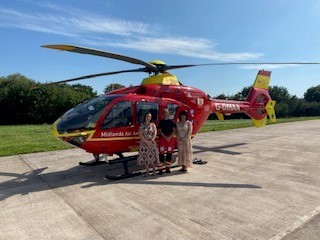 Evacuation chair manufacturer, Evac+Chair based in Solihull, has pledged its support for Midlands Air Ambulance Charity by donating three of its evacuation chairs, a training course and annual maintenance contract for each chair,  to the charity's new airbase and headquarters.
Equating to a value of £3,500, the Evac+Chairs will be based in the lifesaving service's new facility and can be used to transport people with restricted mobility to safely evacuate the building in an emergency.
Pam Hodgetts, corporate partnerships manager at Midlands Air Ambulance Charity said: "Accessibility and health and safety has been a big consideration of the development of our state-of-the-art new building. Thank you so much to Evac+Chair for its generous donation of such vital equipment. Their donation means that should there ever be an emergency, this equipment will be here ready to use to safely evacuate those who need it most.