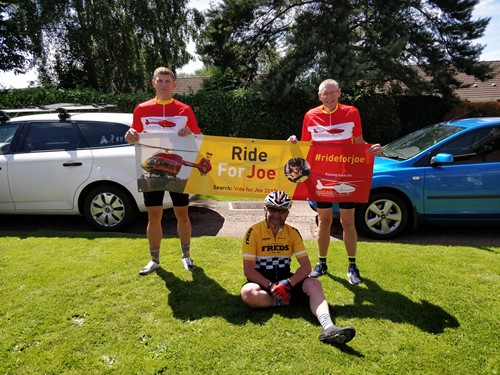 On 31st May 2017, Joe Guy, a promising time trial cyclist from Wolverhampton tragically lost his life in a road traffic collision. Since then, his family has continued Joe's legacy by pedalling his passion for cycling into an annual fundraising event, Ride For Joe.
Each year, Joe Guy's family run a cycling sportive event, designed for everyone to have fun but also challenge themselves. Any proceeds made at the annual event are kindly donated to Midlands Air Ambulance Charity.
This year, despite the restrictions that COVID-19 continues to bring, Joe's family and friends still managed to organise a donation for the rapid response, emergency service. The generous donation of £2,909 pushed their fundraising total since 2017 to £21,500 which equates to the cost of 25 missions – seven air ambulance and 18 in the lifesaving charity's two critical care cars.
Joe Guy, who was 16 at the time of the collision, was on a training ride with a friend when he was struck by a lorry, despite the best efforts of Midlands Air Ambulance Charity critical care team, he sadly passed away at the scene.
Maria Jones, Shropshire fundraising executive for Midlands Air Ambulance Charity, said: "Watching this annual event grow year on year shows just how loved Joe was by everyone, and it's an honour that his family have chosen to raise money for Midlands Air Ambulance Charity.
"The continued support from Joe's family means that they've now reached a fundraising milestone in his memory by helping to make 25 missions possible."
Craig Guy, Joe's brother, added: "After losing Joe, we wanted to create a legacy and give something back to those that helped him.
"The riders who support our event are the people that make this happen. Our thanks goes to them, Midlands Air Ambulance Charity and everybody involved in raising the money, every year.
"We are particularly pleased this year as the circumstances have made it difficult to organise a ride, but yet again, the world of cycling stood up to the mark. Hopefully we will be able to get together in person, next year."
For more information on Midlands Air Ambulance Charity, you can visit midlandsairambulance.com and follow the organisation on social media.