As part of the Midlands Air Ambulance Charity's CPR Training Challenge, Critical care paramedics trained over 100 adults and children during the Charity's Strensham Airbase Open Day on Sunday.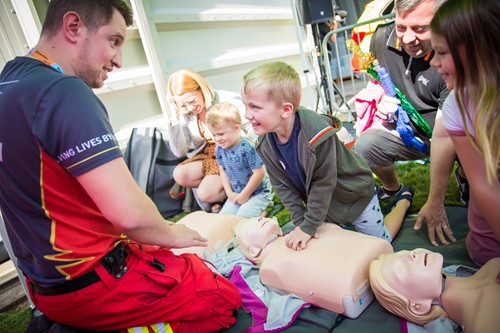 Last year, the service attended 3,861 missions by air and critical care cars, of which nearly quarter were related to cardiac arrests. Visitors who attended the free event were given the opportunity to learn the lifesaving skill, alongside learning more about the emergency service, which is funded entirely by donations.
Emma Gray, fundraising and marketing director for the charity says: "Every September we open the doors of our Strensham Airbase so our supporters can see behind the scenes, meeting our aircrew and having a close look at our aircraft.
"This year the event raised enough funds to ensure we can undertake five future air ambulance missions, and we're delighted that our aircrew with support from West Midlands Ambulance Service, were able to train 100 people in the lifesaving skill of CPR."
Visitors were also treated to live incident demonstrations, classic vehicle displays and children's entertainment including character mascots, face painting and fairground rides.