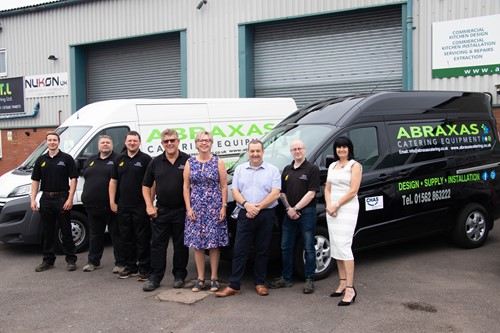 Worcestershire-based commercial kitchen design company, Abraxas Catering Equipment, is continuing to support Midlands Air Ambulance Charity for the third year running.
For every gas safety inspection that Abraxas Catering Equipment carries out during 2020, Midlands Air Ambulance Charity will receive £2.50. The scheme has been put in place to raise awareness of the dangers of poorly maintained gas appliances, which can cause gas leaks, fires, explosions and carbon monoxide (CO) poisoning. It is also helping raise awareness and funds for the local, lifesaving charity.
National Gas Safety week is held during September every year, where promoting gas safety in both businesses and homes is highlighted around the UK. However, Abraxas Catering Equipment is going one step further and making 2020 its year of gas safety awareness.
Diana Voaides, corporate partnerships executive for Midlands Air Ambulance Charity, said: "Without the support and donations from local businesses, like Abraxas, we would not be able to fund our lifesaving service.
"The innovative way of taking a donation from the cost of the sale of a product or service is something we are seeing more of and is an easy way for businesses to show us their support."
Abraxas carries out an average of ten gas safety inspections per month, along with design and installation of commercial kitchens, servery counters and extraction and ventilation systems. For more information on what Abraxas Catering can offer please visit their website abraxascatering.co.uk or call 01562 863 222.