Gift Aid Explained
To mark Gift Aid Day, our finance director, Tessa Rollings, provides us with an insight into what Gift Aid is and how you can help us fund dozens more lifesaving air ambulance missions each year at no extra cost to you.
What is it?
Simply put, Gift Aid gives an extra 25p for every £1 you donate. Gift Aid is an income tax relief designed to benefit charities like us. If you're a UK tax payer, Gift Aid increases the value of your charity donations by 25 per cent, because we can reclaim the basic rate of tax on your gift – at no extra cost to you.
How does Gift Aid work?
Thankfully, charities don't pay tax on most types of income, which is why the tax paid on financial gifts can be claimed back. Each month, MAAC provides information to HMRC on donations with Gift Aid received and HMRC will then send the amount of Gift Aid to us.
As a supporter, all you need to do is fill out a Gift Aid Declaration form when donating. If you donate online, you can fill it in here: midlandsairambulance.com/donatenow. This is a statement from you to the charity confirming that you want to donate through Gift Aid and for MAAC to receive tax back on your donation.
Please note that Gift Aid only applies to 'gifts' i.e. donations. It does not apply to things like tickets to one of our events or by entering a competition.
Other ways to Gift Aid
If you bring in donations of quality goods and clothing to our charity shops, you can also Gift Aid your donation. This is slightly different to the main Gift Aid scheme, and is referred to as the Retail Gift Aid Scheme (RGAS).
What it does mean is that we can claim Gift Aid on the sales proceeds made from your goods.
How does the RGAS work?
Basically, we offer to act as an agent for you, the donor, to sell goods on your behalf. All you have to do is sign our Retail Gift Aid declaration form, so that we can claim the additional funds. For example, if a top was sold for £4 under the RGAS, we could claim £1 of Gift Aid from HMRC. Like Gift Aid, this is a no extra cost to you, so it's win, win.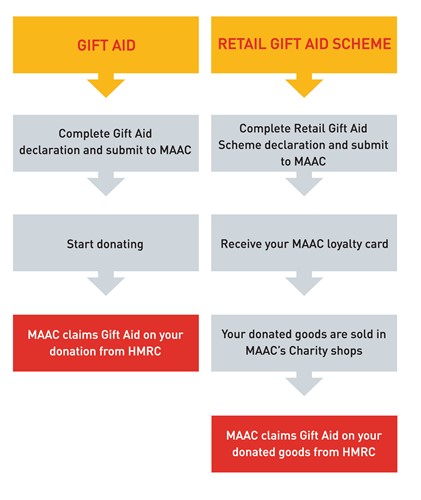 Every three years, or sooner if your donations have raised more than £20, we will write to you informing you of the amount of money raised and Gift Aid claimed. Plus, you don't need to fill in a form every time you donate goods to us. Come and see us in our shops in Walsall, Wellington, West Bromwich or Newcastle under-Lyme, and we will provide you with a loyalty card with your unique donor number. Every subsequent visit, just show us your loyalty card and we will record the items against your donor number - it's as easy as that!
Why is Gift Aid so important to us?
Gift Aid provides us with an additional source of fundraising income. If all of our donations and donated goods included Gift Aid, this would generate an extra £435,114 each year, enough funds for 174 vitally important missions!
Find out more by visiting www.midlandsairambulance.com/donatenow