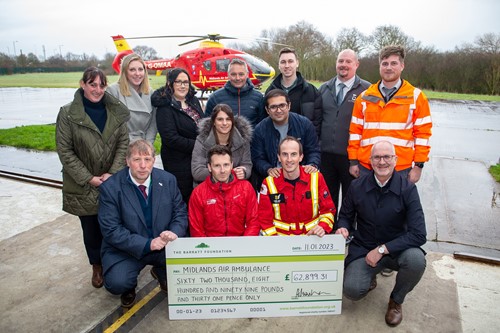 Leading developer, Barratt Homes West Midlands, has announced it has raised more than £62,000 for its Charity of the Year for 2022, Midlands Air Ambulance Charity.
The housebuilder, based in Halesowen, continued its fundraising for the emergency service charity and, through fundraising and matching from the Barratt Developments PLC Charitable Foundation, has donated a total of £62,899.31.
The commitment of employees at Barratt Homes towards helping the fundraising of lifesaving missions has meant the costs for critical care car missions are covered for nearly a full year.
Jon Cottrell, senior partnerships executive for Midlands Air Ambulance Charity, said: "Our sincerest thanks go to all the team at Barratt Homes for the generous support and significant donation to our lifesaving pre-hospital service. This donation has helped fund 21 air ambulance missions as well as 218 critical care car missions.
"On behalf of the patients we rapidly reach and provide advanced clinical treatment to, and their families, thank you for helping to make a lifesaving difference."
Barratt Homes' employees took part in a wide range of fundraising activities throughout the year, with some of the projects including a golf day, a boxing event, bucket collections and a Christmas wrapping initiative.
Adrian Evans, managing director at Barratt Homes West Midlands, said: "Midlands Air Ambulance Charity is close to the hearts of many employees here at Barratt Homes.
"We can't thank those associated with the charity enough for their contribution towards lifesaving missions across the West Midlands and we'll look forward to continuing our support for the charity for years to come.
"We're thrilled to be donating over £62,000 to such a worthwhile cause, and we're very proud of our employees for their fundraising efforts over the past year."
For its efforts in raising vital funds for the charity, Barratt Homes was named Corporate Fundraiser of the Year at the charity's Charity Ball in 2022.