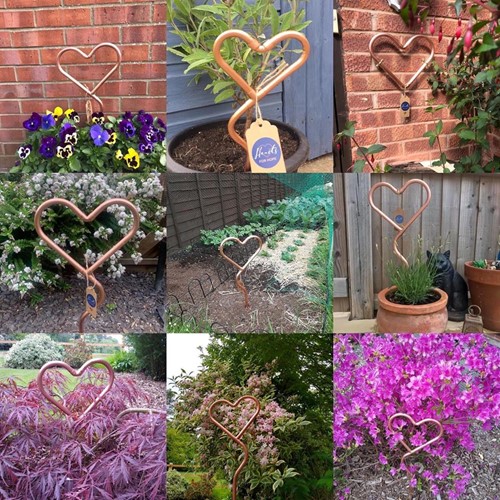 The Evesham-based 'Hearts For Hope' initiative has raised more than £500 for Midlands Air Ambulance Charity.
Furloughed plumber, Dan Ford, and wife, Lyndsey of Evesham, Worcestershire, had some excess copper pipe lying around, so decided to get creative and busy themselves creating 'Hearts For Hope'.
The copper hearts were initially sold as garden ornaments, but due to popular demand the couple have now ordered in more copper to fulfil the unprecedented orders they have received. The range has also expanded to include homeware items, such as a copper heart wine rack, a garden hook, plant basket bracket and even house numbers.
So far, their sales have raised a total of £8,000 for local charities fighting in the COVID-19 crisis. £500 of which they kindly donated to local, lifesaving Midlands Air Ambulance Charity – funding two critical care car missions.
Lyndsey Ford said: "We are now spending all of our spare time sourcing supplies and creating the hearts. We weren't expecting to have so much interest and for so many people to purchase our hearts enabling us to donate to lots of different local causes."
Jo Bailey, events and area fundraising manager for Midlands Air Ambulance Charity, adds: "Its thanks to the generosity of local people like Dan and Lyndsey Ford in the communities we serve and their kind donations that we are able to continue funding our rapid response, pre-hospital emergency service."
To find out more about the 'Hearts For Hope' product range, visit the website: www.heartsforhope.co.uk – more information is also available on social media: Facebook.com/heartsforhope20 and Instagram.com/hearts.for.hope_