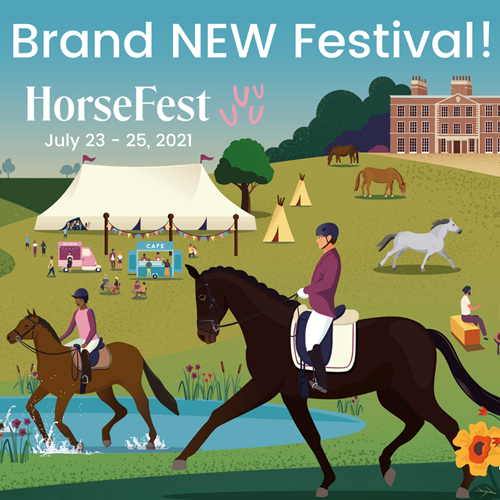 The team behind HorseFest 2021, the exciting new annual festival, taking place from July 23 to 25 2021 at Weston Park in Shropshire is supporting four charities through the event, with more charity partnerships to announce.
Quickly gathering pace as the must attend event for the summer months, HorseFest will allow festival-goers to come together, learn, celebrate, have fun and create special memories.
HorseFest is the brainchild of Thea Roberts and Heidi Hunter-Cope who came up with the idea when wanting to develop an all-encompassing horse event with a festival feel.
Said Heidi: "We are delighted with the support we have received for HorseFest so far and really wanted to use the event to bring attention to charities that are close to our hearts."
The charities attending HorseFest include Lingen Davies Cancer Fund, a regional charity working to make a positive difference to lives affected by cancer in Shropshire, Telford & Wrekin and Mid Wales.
Said Events and Fundraising Officer, Lizzy Coleman: "We're really looking forward to being part of HorseFest and raising awareness of our charity. 2020 has been a difficult year and so, having an event such as this to look forward to in 2021 is very uplifting. We're hugely grateful to the HorseFest team for choosing to have us involved."
The team at Lingen Davies Cancer Fund will be running a 'Shop and Drop' stand at HorseFest to raise money and allow festival-goers to enjoy their time at the event without carrying bags around.
Midlands Air Ambulance Charity is also attending HorseFest.
Emma Gray, fundraising and marketing director for Midlands Air Ambulance Charity, said: "We are delighted to have been invited along to HorseFest to promote our vital rapid response, pre-hospital service.
"We have close links with the equestrian community and last year, sporting and equestrian related injuries were our top fourth attended incident type."
Passionate about the environment, the HorseFest team was also keen to support ecolibrium, a charity launched in 2015 that aims to work with the live events industry to tackle the environmental impacts of travel; reducing carbon emissions where possible and balancing unavoidable CO2 with investment in climate solutions programmes.
A £1.00 donation will be made to ecolibrium for every guest vehicle that makes its way to Weston Park over the three days.
Said Communications Manager, Bethan Riach: "We are delighted to welcome HorseFest to the ecolibrium community of events committed to tackling the environmental impacts of audience travel - especially exciting is that HorseFest is our first equine event member. We look forward to working with them to highlight the importance of sustainable travel to their festival-goers and investing 100% of HorseFest's donations into projects that generate clean renewable energy through our Energy Revolution programme."
Brixton-based Ebony Horse Club carries out valuable work using horses to raise the education, life skills, wellbeing and aspirations of young people from disadvantaged communities within south London. This is done by providing horse riding, horse care, volunteering, youth work sessions and trips away from the hectic urban environment.
Said General Manager, Naomi Howgate: "We are really looking forward to being involved in HorseFest, it is great chance for us to tell a new audience about our work and our young people will love the event itself. It is also a fantastic celebration of all things horsey, an idea which we love!"
HorseFest will provide Ebony Horse Club with the opportunity to raise awareness for the charity and will be attending with some of the young people that benefit from their work.
On the demonstration front there is a host of top names already signed up including the legendary eventing mother and daughter duo, Mary and Emily King; and presenter and event rider Jonty Evans and his Olympic ride, Cooley Rorkes Drift.
Grand Prix dressage riders Steph Croxford and Sam Turner; action man and classical dressage rider, Ben Atkinson; as well as eventer turned show jumper, Jay Halim; performance psychologist Charlie Unwin and natural horseman Jason Webb; as well as Gillian Higgins of Horses Inside Out.
The fun continues into the evening, when you can unwind, relax or dance the night away with the live music and entertainment or get involved with fun quizzes as you treat yourself to a drink or two!
For further information and to book your tickets visit www.horsefest.org