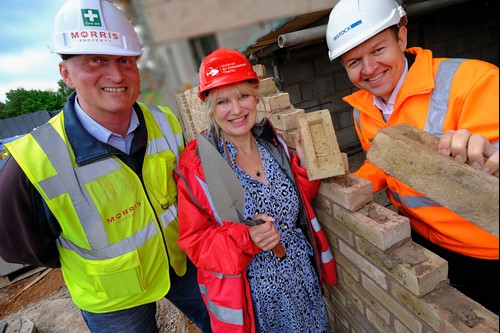 A building materials company is helping Midlands Air Ambulance Charity realise its plan for a new airbase and charity headquarters thanks to a generous donation.
Leicester-based Ibstock Brick has kindly donated a generous number of bricks – a third of the total amount needed to build Midlands Air Ambulance Charity's new facility in the Cosford area, on the Shropshire/Staffordshire border.
With construction of the airbase and headquarters underway, representatives from Ibstock Brick visited the site to mark their donation and the significant progress being made.
Four years in the planning, the charity's new airbase and headquarters will complement its existing air ambulance-led service across six Midlands counties to help some of the most critically ill and injured patients across the region.
The headquarters, designed to future-proof the advanced pre-hospital service, will provide a new environment for crew and staff, including main offices, warehousing and storage and space for two aircraft and critical care cars to allow the charity to expand its service in the future. As a recognised 'Centre of Clinical Excellence' for pre-hospital emergency medicine, it will also help develop clinical skills and talent.
The improved facilities, combined with an optimum location, will enable rapid despatch and coverage meaning quicker response times while its research and development space will increase clinical research, improve on the current training environment and facilitate innovation in the years ahead.
Martin Runc, national contract sales manager at Ibstock Brick, said: "Our business is at the heart of building so there couldn't be a more worthy beneficiary than a charity that provides lifesaving care. It was great to see first-hand the difference our donation has made, and I'll follow the progress at the new site with close interest."
Hanna Sebright, chief executive of Midlands Air Ambulance Charity, added: "We've been given a number of grants to support the construction of our new airbase. Therefore, the brick donation is greatly appreciated and means so much. Our sincere thanks go to the whole team at Ibstock Brick for their generous donation."
More than 90 per cent of funding for the new airbase and headquarters facility has been obtained via major grants from organisations such as the Department for Health and Social Care and the HELP Appeal. In addition, the charity is undertaking fundraising campaigns for specific areas of the new construction, including a clinical simulation training suite, memory garden and community education zone. The facility is expected to be completed summer 2023.
Find out more about Ibstock Brick.