Generous racing fans at Worcester Racecourse's mid-September meet, raised over £2,500 for Midlands Air Ambulance Charity, which will fund a future lifesaving air ambulance mission.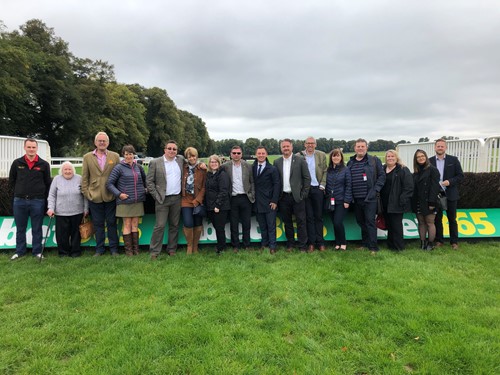 Racegoers posted spare change and winning notes into the charity's buckets, and took part in a raffle to raise the funds.
Special guests of the charity contributed to the funds raised by taking part in a Behind the Scenes Race Day experience. The day began by visiting local trainer David Dennis, where they had a guided tour of his yard and met the horses. On arrival at the Racecourse they had a tour of the facilities hosted by professional racing pundit Ryan Tongue, followed by a three-course lunch, and a private box to enjoy the racing.
Emma Gray, fundraising and marketing director for Midlands Air Ambulance Charity said: "For a charity which relies on the generosity of the public, the funds raised from this event are very gratefully received.
"We airlift a horse rider on average every four days, so it's important for us to raise awareness of the vital service we offer, to ensure we can continue to support the equestrian community."
The charity would like to thank the sponsor of the event, TP Pools Services, host Ryan Tongue, David Dennis, Brian Toomey and Jonjo O'Neill.