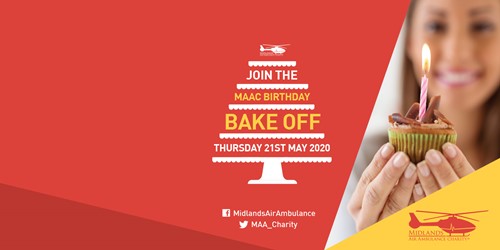 Thursday 21st May 2020 marks 29 years since Midlands Air Ambulance Charity first took to the skies, providing the regions helicopter-led lifesaving service.
With tens of thousands of lives saved since 1991, and a fleet of three helicopters and two critical care cars, the charity is keen to celebrate its birthday despite the lockdown. The charity's big wish this year, is for supporters to get baking and take part in a competition.
Midlands Air Ambulance Charity is putting the fun into sweet, sweet fundraising for its 29th birthday, by holding a free to enter competition for the best decorated bake. So, whether your niche is something savoury or if you're top of the 'cake' class – every sprinkle helps.
To get involved you will need to bake and decorate a tasty treat between now and Midlands Air Ambulance Charity's anniversary on Thursday 21st May 2020, and simply share images of your creation with the charity by sending them to: press@midlandsairambulance.com or tag the organisation on social media using the tag handle: @MAA_Charity and the hashtag: #MAACBirthdayBakeOff.
The charity will be assisted by TV chef and Midlands Air Ambulance supporter, Sally Bee in picking a winner. The deadline for entries is 2pm on Thursday 21st May. The winner will receive a MAAC goody bag as a prize, with lots of Midlands Air Ambulance merchandise.
Emma Gray, fundraising and marketing director for Midlands Air Ambulance Charity, said: "Throughout the COVID-19 pandemic, there's been a rise in the number of novice bakers dusting off their aprons, it would be great to see them do it for the charity's birthday. While it is free to enter, we do welcome a donation for taking part as we are facing a 48 per cent drop in fundraising income this year, despite demand for our service remaining constant.
"During our 29 years, our rapid response, pre-hospital emergency service has attended over 55,000 missions, reaching and treating those in critical need of advanced medical care at the incident scene. 100 per cent of our missions have been funded by generous donations from people and businesses within the local communities we serve."
To find out more about the MAAC Birthday Bake Off, visit: midlandsairambulance.com/events/maac-birthday-bake-off
It is not obligatory, but those who want to donate, are encouraged to text MISSIONPOSSIBLE £3 to 70085.