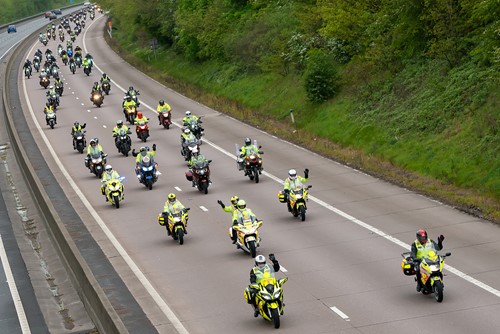 Time is running out for bikers who want to sign up to take part of one of the region's most popular ride out events.
There are two weeks to go until thousands of bikers gather at Midlands Air Ambulance Charity's annual Bike4Life Ride Out and Festival on Sunday 24th April. There is still time to sign up - but bikers are being urged to be quick to beat the deadline for entries.
Founded ten years ago, the Bike4Life Ride Out and Festival, which is sponsored by RAC, has grown to become the UK's largest annual ride out. The event features on bikers' international calendar and is regularly attended by participants from all over Europe. More than 6,000 bikers and pillions participate in the ride out in a 23-mile convoy from Meole Brace in Shrewsbury to the home of the Bike4Life Festival at RAF Cosford in Shropshire.
This year's event has the support of some of the UK's most famous celebrity bikers including Carl Fogarty MBE, Ollie Ollerton, Steve Parrish, Dougie Lampkin MBE and British Superbike racer, Danny Buchan.
Emma Wood, head of fundraising and marketing for Midlands Air Ambulance Charity, said: "Numbers are strictly limited to 3,500 bikes in the ride out – and the event is yet again on track to be a sell-out, so enthusiasts who are interested in taking part should book now while there's still time. It costs just £10 to take part. All proceeds will help us continue with our lifesaving work - much of which includes attending road traffic collisions that involve bikers who are amongst the most vulnerable road users."
The Bike4Life Ride Out and Festival, sponsored by the RAC and supported by road safety training company TTC Group, and West Mercia Police, concludes at RAF Cosford in Shropshire for a Festival of live bands, opportunities to meet the crew and food stalls. To book visit the Bike4Life website.
To find out more about Midlands Air Ambulance Charity's vital, lifesaving work in your local area, visit the website and follow the organisation on social media.
Find information on the RAC here.